My parents begin asking me about what I want for Christmas very early because they want to find something, that's not going to be wasted. I think they do that because I tend to buy things and just leave it to the side.
Note: I buy a lot of clothes and save them because they're too beautiful, and then I fall out of love with them. I'm trying to fix this bad habit and I've been forcing myself to wear my new clothes. Plus my addiction for the past few months has been makeup and not clothes, and I do use my makeup when I buy it. Kinda...
Ok, back to the point, here are the things I've been looking at to be my presents:
For the first, I have three options on my mind, I just want one of them, because I want a shoe in that style...
1.
Coach Cassy Wedge in Clay (I'm going to go to Macy's to actually see it because I don't want to see the color turn out bad if I have it mailed... Be careful with that!)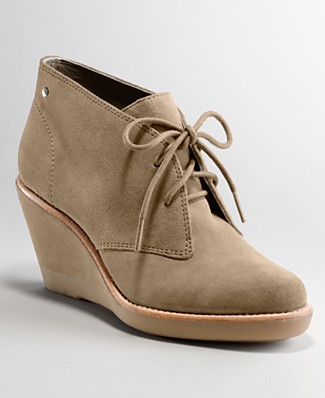 Aldo's GENNARELLI in Beige
Which one would you choose? The Coach Cassy Wedge is my first choice from the internet images.
2. Sigma Brushes (I don't really want to spend the money on MAC brushes because when you think about it...the price of two mac brushes can get you a whole face and eye brush kit from Sigma!)
There are quite a few brushes that I want... I do want the Complete Brush Kit.
I'm really into the whole glow thing. I already have Benefit's Moonbeam, which I loveeee.
I've been looking into the NARS Orgasm Illuminator..
Any other suggested highlighters?
So far, these items are what I've been looking at the most for Christmas. Of course, I have many more things that I want, but these stuck out the most for this season.
What are the things you want for Christmas? Thanks for reading!